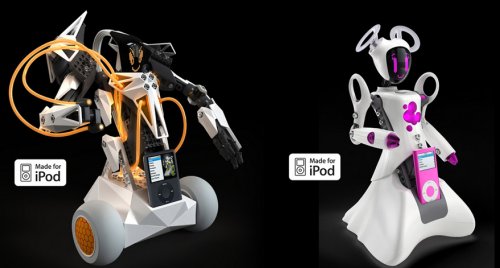 I'm not going to talk about the fact that these robots have iPods in their crotch areas. I'm going to completely ignore the pink elephant in the room and I hope you will too, difficult as it may be.
Meccano is introducing 2 new robots, the Spykee Vox and the Spykee Miss, each targeted at different genders by the looks of them. I guess it has to be mentioned. Each robot has it's own iPod dock, weirdly situated in their robot groin areas, and are compatible with other mp3 players as well.

Both Vox and Miss are designed to obey voice commands given in several languages, like English, French and Spanish. They can also can use their infrared module to command appliances like TV's and stereos. The user has the option to customize them by creating new motions and sounds on a PC or Mac. No word yet on when these will hit the market.
They do look rather proud of their iPods being firmly docked.