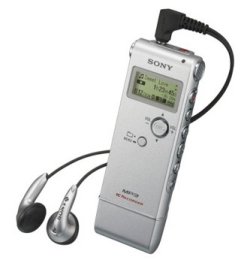 Sony has just announced the arrival of the ICDUX70 and ICDUX80 voice recorders that double as digital audio players (DAPS). They feature 1GB and 2GB internal storage space and play back for MP3 files and also record in MP3 stereo format, can capture 290 and 581 hours of audio in LP mode and are powered via a USB port.
The design isn't too secretarial looking as such devices have been known to be in the past, which is a big plus. The USB connection also enables direct battery charge. The ICDUX70 comes in black and pink, while the ICDUX80 can be had in black and silver.

Both models are said to be available sometime this month. No word on pricing yet, but they are describing them as "affordable".
ICD-UX70, ICD-UX80, MP3, Sony, voice recorder