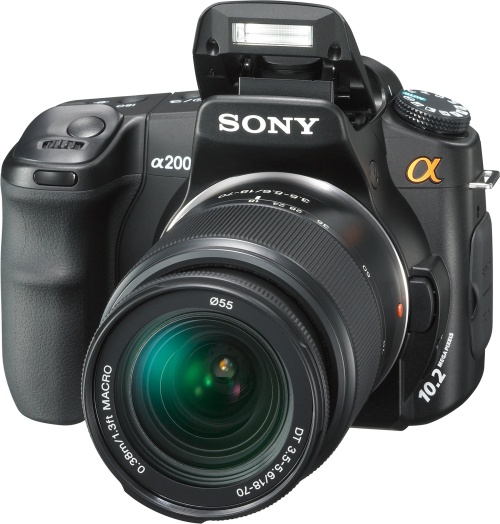 Sony is updating its line of α (alpha) DSLRs for consumers by introducing at CES the DSLR-A200. This 10.2-megapixel shooter is set to be priced at around $700 with a DT 18-70mm lens and a 75–300mm f4.5-5.6 lens for about $900.
The Sony DSLR-A200 camera builds upon the DSLR-A100 model. Sony says upgraded features include "a wider, 2.7-inch Clear Photo LCD screen for easy playback viewing; a more compact body and an easily-accessible mode dial; an easy-to-use function menu (camera function display); improved noise control for higher quality images; an auto focus speed 1.7x faster than the previous model; improved predictive control performance; quieter shutter sound; automatic pop-up flash; and a battery life indicator that displays the percentage of battery life remaining so you know exactly when to recharge."
Other features include enhanced image stabilization, support for JPEG and RAW and a full line of accessories. You can expect the DSLR-A200 in its two kits in February.