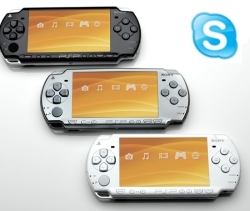 Sony is only days away from releasing the availability of Skype on the PSP and the company has released an announcement saying that the January 24th launch will be delayed. In particular, Sony officials said that the microphone products they've created for the PSP to go along with the Skype service are what is causing the problem.
Both the Single Pack and the Double Pack microphones did not meet Skype's specifications, and instead of going on without them Sony is going to hold up the whole works. A new solution and a new launch date for the Skype service and microphones for the PSP are being "sought after" and will be announced at a later time.
The good news is that this delay so far seems limited to Japan. It's strange that they would come to this conclusion only a day before the launch. Are the microphones for Japan customers different and not up to standard while the microphones for the U.S. are acceptable, or is there some other force in Japan that doesn't like the idea of free mobile VoIP minutes?
Playstation Portable, PSP, Skype, Sony