| | |
| --- | --- |
| | |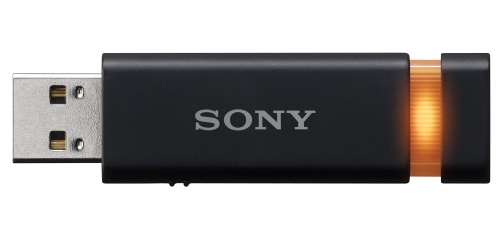 Among the many cool things Sony is showcasing this year at CES one of the smaller items not to be overlooked is the addition of a new style of Microvault USB flash drive. This new drive has a new "Sony"-style look to it with a flat black finish and a glowing Orange LED section towards the back end letting you know when the drive is connected and active.
The new USB 2.0 compliant Microvault comes in capacities from 1GB up to 16GB but probably the most significant feature of this otherwise uneventful USB drive is the clicking action. The is no cap to protect the USB connection because the connection will actually retract back into the case when the other side is clicked, much like a retractable pen. Clicking it again extends the connection for use in a number of compatible devices. Also, according to Sony, simply removing the flash drive will cause the USB connection to automatically contract. We're guessing it's due to friction when pulling out the connection.
The drive also comes pre-installed with some compression software and Windows ReadyBoost and should be available this month, but at the time of release Sony had nothing to say about pricing.