| | |
| --- | --- |
| | |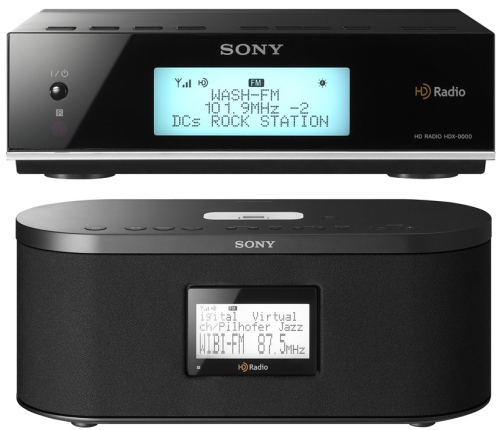 Sony pushed out a couple of new HD radios last week at the annual CES event for those audiophiles wanting some high fidelity sound without the subscription costs of satellite radio. The XDR-S10HDiP HD Radio (pictured bottom) is a tabletop type player that comes ready to go with speakers and an iPod dock on top. The XDR-F1HD Tuner (pictured top) is component HD tuner that can connect and bring HD radio to your existing home theater system.
Both systems will pick up over 1,500 nationwide HD radio stations and will also bring in regular FM and AM signals. The XDR-S10HDiP is the first of this type of HD radio from Sony and features the ability to dock and charge an iPod when connected. While listening to HD radio the iPod owners can also use the iTunes Tagging which lets you mark songs you like playing on the radio and save the titles in your iPod. The next time you sync your iPod with iTunes, it will find those songs and prompt you with the option to buy them. The tabletop player also comes with a wireless remote that not only controls the radio but also controls the iPod when docked.
Like the tabletop model the XDR-F1HD also has a wireless remote and will display the current station, artist and song title in the LCD display and connects to your home stereo system or receiver to bring HD radio through your existing speakers. The XDR-F1HD model goes for $100 and the XDR-S10HDiP retails for about $180 with Sony promising to have both on store shelves sometime this summer.