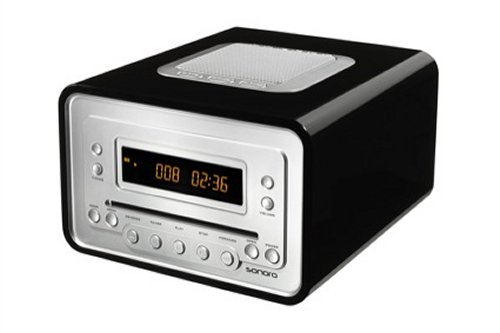 If you are looking for a stylish CD/MP3 clock radio that has quality German design, Sonoro Audio has three new cubos that are launching during CES 2008. These retro looking units are an all-in-one clock that contains a slot-in CD/MP3 player as well as an internal iPod docking station with remote control compatibility and recharge function. It also has that old archaic thing known as AM/FM radio reception.
If you happen to be a fan of radio, they will also be offering a internet/FM radio cubo. It certainly combines form with functionality and they paid attention to design detail. Each of the three cubos are encased in wood in order to provide high quality acoustics. The metal grill located on the top of the product enables upward resonance from its powerful full range speaker.

Measuring 8.26-inches x 5.39-inches x 9.05-inches and weigh 8.15-pounds, they make for a very retro and powerful little unit.