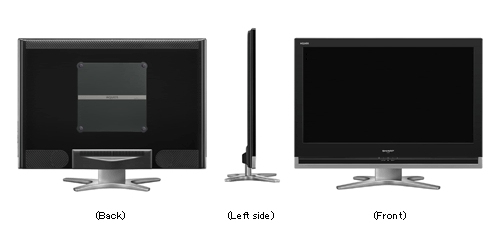 It looks like Sharp just took the lead in the race for the world's thinnest production LCD television. The AQUOS X series TVs come is 37, 42 and 46-inch models and are an incredibly super-thin 34.4mm (1.35 inches). Part of Sharp's ability to keep these LCDs so Svelte is attributed to the fact that the tuner and the I/O connections are in a separate box and not inside the actual TV. It's then connected through a single cable to the television.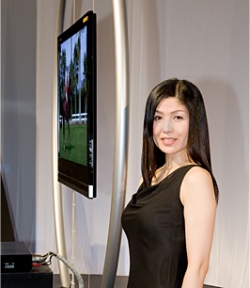 The new AQUOS X series LCDs don't appear to be skimping on any features, however. The company is bragging up a 120 Hz refresh rate and 176 degrees of view in a 46-inch LCD that weighs only 38 pounds. It also has 5,000:1 dynamic contrast, 450 cd/m2 brightness and a 3-way, 8 speaker system that they somehow crammed into the chassis. Connecting up to the high-def models looks very friendly with 3 1080p HDMI connectors, DVI, Ethernet and Firewire
These new "world's thinnest" AQUOS models will be hitting shelves in Japan in March with pricing still open at this point.
UPDATE: Gizmodo is showing pricing of these models at ¥350,000 ($3,290) for the 37-inch LC-B-37XJ1, ¥430,000 ($4,050) for the 42-inch LC-B-42XJ1 and ¥480,000 ($4,510) for the 46-inch LC-B-46XJ1.