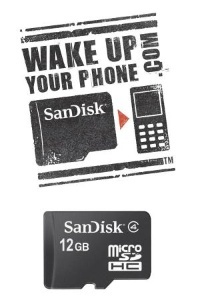 SanDisk has announced from the CES floor it has begun to provide samples of a 12GB microSDHC memory card to phone manufacturers for testing and evaluation. This 12GB capacity marks what SanDisk says is the world's largest for mobile phone storage.
A 12GB microSDHC card represents around a 50 percent boost in storage capacity over SanDisk's current 8GB card. The card reportedly can hold, for example, a combination of 1,500 songs, 3,600 photos and 24.5 hours of video.
Sandisk provided no specific date or pricing on these new microSDHC memory cards.