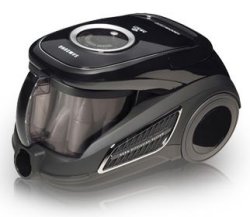 What do you get when you decapitate Master Chief and turn his head into a vacuum? No, not another questionable Highlander sequel that sucks. What you get is this Samsung vacuum that is obviously inspired by Halo.
Samsung's new bagless vacuum cleaner was just released, the Silencio SC9540. It boasts sophisticated and powerful tools, and they claim that it's also quieter than ever so you can clean at any time of the day or night. The Silencio features a Multi Chamber suction system, which is more powerful than conventional vacuum cleaners and maintains a high level of suction power no matter what surface you are cleaning. With the Silencio's Silver Nano technology and HEPA filtration system, you're protected against harmful dust particles and mites, even if you are a pet owner.

When you're done with your vacuuming, you can proudly display your Master Chief head anywhere you want and pretend you were man enough to take him down.