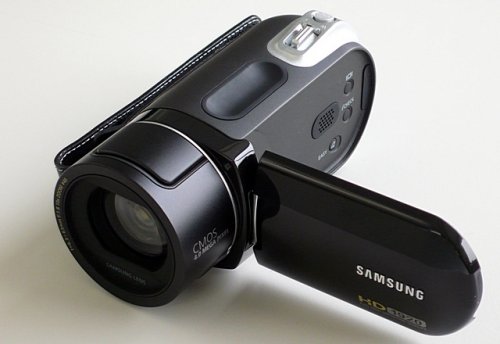 Here's a cool CES 2008 offering from Samsung. Samsung's new SC-HMX20C is an HD Flash-based camcorder with a 1080p mode that features 30 frames-per-second recording capability. It also has 8GB of built-in flash memory. That's probably more then enough for most casual users, but if you want more, it also gives you the option of recording onto SDHC/MMC+ cards.
Their are advantages to using flash memory. Such as quicker start-up, longer battery life, and a of course you can have a more compact design. This camcorder can also be used as a still camera, taking pics at up to 8 megapixels. Send movies directly to the HDTVA docking station that has an HDMI input and component connections.
If you have a Samsung TV, you can control the camcorder through the HDTV remote. Borat says, "Very Nice!" with a big thumbs up. You know, if Borat were into this kind of thing.