| | |
| --- | --- |
| | |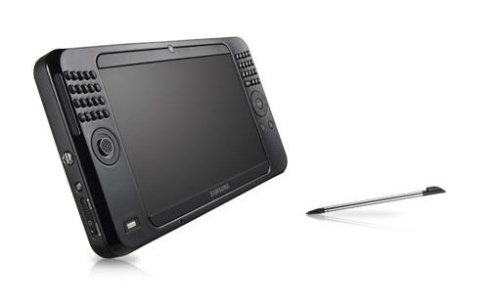 Samsung brought out at CES this week to showcase an upscale version of its popular UMPC line up. This latest high performance model is known as the Samsung Q1UP-XP and Samsung says it will be available for around $1,400.
The Samsung Q1UP-XP (Q1 Ultra Premium UMPC) has a seven-inch backlit LCD with is touch sensitive and has a native resolution of 1024 x 600. It's powered by a 1.33GHz ULV Intel Core Solo U1500 Pentium CPU and offers up to 7.5 hours of battery life. It also features a split-QWERTY keyboard, 80GB hard drive and is based on the Microsoft Windows XP Tablet Edition operating system.
Get more information on this new Samsung UMPC after the jump.
SAMSUNG Expands Its Q1 Ultra Line With New High-Performance UMPC
on Jan 06, 2008
Q1 Ultra Premium UMPC Features Intel Core Solo Pentium CPU, Named 2008 CES Innovations Honoree
LAS VEGAS – January 6, 2008 – Samsung Electronics America, a subsidiary of Samsung Electronics Corporation, a global leader in digital media and digital convergence technologies, today unveiled the Q1 Ultra Premium UMPC, the newest version of the best selling ultra mobile personal computer (UMPC) in the world. Due to its high-performance value coupled with its ultra-portable and ultra-sleek design, the Q1 Ultra Premium UMPC was named a 2008 CES Innovations Honoree. The Q1 Ultra family of UMPCs, including the Q1 Ultra Premium, will be on display during CES 2008 at the Samsung booth, #11033 in the Central Hall of the Las Vegas Convention Center from January 7-10.
Aimed at the commercial market, as well as to those individuals that travel frequently and thereby looking for the smallest PC-compatible form factor, the Q1 Ultra Premium UMPC advances Samsung's Q1 Ultra line by delivering enhanced performance, extended battery life and superior text entry. Fueled by a 1.33GHz ULV Intel Core Solo U1500 Pentium CPU running at a clock speed of 1.33 GHz, along with 1 GB of high-speed DDR2 system memory, the Q1 Ultra Premium UMPC is a no-compromise, high-performance mobile computing solution that offers full PC functionality in an ultra-light, sub 2 pound package. Powering this advanced platform is a 57.7 watt hour Lithium Ion polymer 6-cell battery that will provide up to 7.5 hours of battery life. Additionally, this new model features the split-QWERTY keypad – Version 1.5 – which provides larger, improved keycaps making text entry even easier now. With these advances, combined with the UMPC's enhanced features and ultra-portable form-factor, the Q1 Ultra Premium is a compelling solution for those mobile applications that require a no-compromise, PC-compatible, ultra portable solution.
Introduced in May 2007, the Q1 Ultra is Samsung's second generation UMPC. In creating the Q1 Ultra line of UMPCs, Samsung relied on consumer insights to deliver a higher-performance solution packaged in an even more portable form factor than the previous Q1 models. Complete with an 80 GB 1.8" ultra-small hard disk drive, fingerprint reader for advanced system security and an SD/MMC 2-in-1 memory slot for easy memory expansion and data transfer, the Q1 Ultra UMPC is designed to enhance productivity and ease-of-use for a range of professional and personal applications.
"Since pioneering the UMPC form factor with the introduction of the original Q1, Samsung has been unwavering in its commitment to the long-term growth and development of this fast-growing mobile computing product segment," said Bret Berg, senior product marketing manager, mobile computing products, Samsung Electronics America, Inc. "With the Q1 Ultra Premium, Samsung has leveraged Intel's Ultra Low Voltage Pentium CPU to deliver an even higher-performing solution for those needing to support the latest and most advanced applications."
Like the earlier Q1 Ultra UMPCs, the Q1 Ultra Premium UMPC continues to push the connectivity boundaries by including integrated 802.11b/g Wi-Fi, and Bluetooth 2.0 + EDR, providing users with wireless communications regardless of their location.
Facilitating seamless communication across a range of environments, all Q1 Ultra UMPC models feature a 300 pixel webcam, along with a high-performance dual-array microphone, enabling face-to-face video chatting/video conferencing. Additionally, a high-resolution 1.3 mega pixel camera supports video recording and still pictures, allowing users to simply snap and send videos/photographs with a single device. Supporting these features, all Q1 Ultra UMPC models are equipped with a seven-inch wide WSVGA LED backlit LCD with touch screen that boasts a native, high-resolution of 1024 x 600. The Q1 Ultra UMPCs also integrate the AVS Now instant-on feature, allowing users to enjoy a host of multimedia applications, including video, movies, music and still photos, without booting up Windows.
Value-add Q1 Ultra Premium accessories include a docking station which supports 3 USB 2.0 ports, an additional battery charger slot, audio-out and microphone-in ports, GPS navigation receiver with maps for the complete U.S. and Canada, an external USB-based keyboard with point stick and mouse select buttons, an organizer/portfolio carrying case, 6-cell extended-life battery, 8-cell extended-life Power Bank, car charger, replacement styluses and AC adapters, as well as a DVD RW +/- Dual Layer external Optical Disk Drive.
The initial Q1 Ultra Premium UMPC – Model: Q1UP-XP, Part Number: NP-Q1U/P01 – is based on the Microsoft Windows XP Tablet Edition operating system, and will be available for an MSRP of $1,399.00. To make room for this new model, Samsung will be lowering the price of their entire family of Q1 Ultra UMPC systems. All models can be purchased through a variety of resellers including Amazon.com, B & H Photo, Beach Camera, Best Buy, Buy.com, CDW, Circuit City, Costco.com, Fry's, Insight, J&R Music, MicroCenter, Mobile Planet, NewEgg.com, PC Connection, PC Mall, Tiger Direct, RCS Experience. All Q1 Ultra UMPCs are also available through distribution via Ingram Micro & D&H.