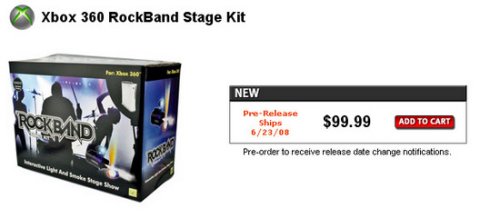 The Rock Band Stage Kit will add more authenticity to your dreams of becoming a real life rock star. The peripheral kit was spotted on GameStop's website, retailing for $99.99. Not many other details are known, but it will include an interactive light and smoke show.
If rocking on a fake plastic guitar still manages to satisfy your rock and roll dreams, just imagine how fancy smoke and lights will raise you to the next level of your somewhat less then Rock-God performances.

Apparently it is arriving on the 23rd of June. Note to mothers of over 30 guitar playing slackers everywhere. On that date, your man-child will leave the basement. It would be a good time to change the locks.
[Destructoid] VIA [Robot Ramblings]
Games, rock band stage kit, Xbox 360, xbox 360