| | |
| --- | --- |
| | |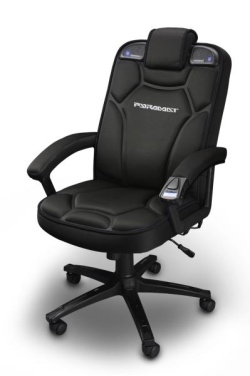 Pyramat, known for making innovative gaming accessories, brought a well stacked line up of products to CES. This items included a full-on chair, a laptop accessory and a few rockers. All of these products should be available now.
Pyramat was specifically showing off the PC Gaming Chair 2.1 (pictured), Laptop Sound Booster, PM450-WR Sound Rocker and S5000 Sound Rocker. Prices on these items range from around $90 to $250.
For more details, check out the full press release after the jump.
Pyramat® Performance Gaming™ Breaks the Mold at CES
Reaches out to PC Gamers with Laptop Sound Booster and PC Gaming Chair
LAS VEGAS – January 7, 2008 – Pyramat LLC, creators of the original line of sound embedded seats for console gaming, delivers a new level of performance with their latest lineup of game enhancing gear at the 2008 Consumer Electronics Show in Las Vegas, January 7-10. Occupying Booth #21926 on the ground level of South Hall at the Las Vegas Convention Center, Pyramat will take control of the show with their most innovative product line yet, including the PC Gaming Chair, Laptop Sound Booster, the S5000 next generation Sound Rocker and the PM450-WR, which is the first completely wireless and rechargeable chair ever manufactured.
"Since 1999, we have solely focused on enhancing game play for console gamers. While we continue to offer exciting new innovations for our console based 'core,' we are thrilled to announce that we are now reaching out to the 44 percent of the market that predominantly games on a PC," said Michael Feldman, co-founder and president of Pyramat. "As the leader in high-performance, game enhancing furniture, we want to provide the same level of sophisticated, cutting-edge products for PC gamers that we currently make for console gamers. We're thrilled to introduce the PC Gaming Chair and Laptop Sound Booster, which will greatly increase the experience of playing video games, listening to music and streaming videos on both desktop and laptop computers."
Pyramat will showcase the following products at this year's CES:
PC Gaming Chair 2.1 – The PC Gaming Chair enhances games, and all other computer based
entertainment. The chair wirelessly connects to a PC through a built-in wireless receiver, and features two full range speakers and a POWERSUB® subwoofer, ensuring a precise and immersive audio experience. The PC Gaming Chair also has an input for MP3s and armrest mounted mouse wheel and touch controls. Available at retail for $249.99.
Laptop Sound Booster – The Laptop Sound Booster™ turns laptops into a personal home theater
experience by amplifying sound through two powerful, full range Pyramat speakers. Perfect for use in the home, but away from the desk, the Laptop Sound Booster features an ergonomic design to accommodate hours of games and videos in comfort. It also has an iPod USB dock for music. In addition to adding enhanced ergonomics and significantly better sound, the Laptop Sound Booster also prevents laptops from transferring heat to a user's lap. Available at retail for $89.99.
PM450-WR Sound Rocker – The PM450-WR is Pyramat's most luxurious Sound Rocker yet. It uses
PREMIUM DIGITAL WIRELESS TECHNOLOGY™ to offer the most precise wireless audio experience
ever available in a Game Chair. The PM450-WR is the first Sound Rocker on the market to feature a
rechargeable battery, which lasts for up to five hours on a single charge It also includes a 2.4 GHz digital eight-channel wireless transmitter, and a rumbling 5.5" POWERSUB subwoofer, making it the ultimate accessory for serious gaming enthusiasts. Available at retail for $249.99.
S5000 Sound Rocker – The S5000 Sound Rocker is the next generation in sound furniture. Evolving far beyond its upholstered wood predecessors, the S5000 features a futuristic design and ultra-precise audio that puts gamers directly into the action. The ergonomically designed Sound Rocker has lumbar support and an adjustable backrest to accommodate people of varying heights in comfort, for long hours of game play. High-performance Pyramat speakers deliver impeccable sound, and a rumbling POWERSUB adds a visceral element to the gaming experience. Available at retail for $169.99.
All Pyramat Performance Gaming products provide users with exceptional style, luxurious comfort and unparalleled electronic functionality. Meticulous audio clarity combined with rumbling POWERSUB subwoofers lets users feel the on-screen action, immersing them deeper into the game, and resulting in improved game play. Sound Rockers are compatible with all game consoles and most audio visual devices, such as a TV, VCR, DVD, hand-held gaming devices and MP3 players.
Pyramat single-handedly pioneered the video game furniture category as the originators of game
enhancing "sound furniture." It continues to produce entirely creative, award-winning, high-quality products with unmatched audio clarity and cutting-edge design.