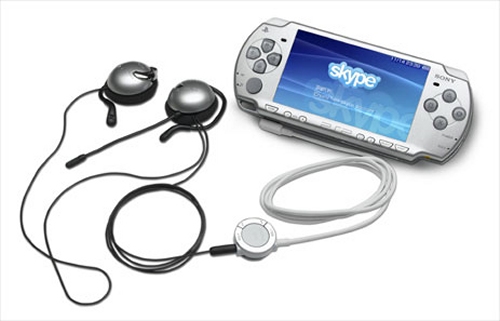 We've been checking daily for that next firmware update we told you about earlier this month that is to include Skype VoIP calling, and looks like it hit today. Version 3.90 is available for download from the Network Update menu on the PSP and will bring support for more PlayStation Network titles to the PSP along with the ability to make and receive free Skype calls on your Playstation Portable. The announcement comes today from Sony Europe but the update appears to be available for download here in the U.S. as well.
Unfortunately this feature is available only on the newer, slim PSP 2000 models and will require you to get a PSP headset and PSP remote control or Go! Cam to operate the Skype features. The 3.90 firmware with Skype lets you make free internet calls through the PSP Wi-Fi connection much like you would from a computer and will even let you setup a new Skype account on the PSP. If you have some Skype credit you can also make SkypeOut calls to landlines for a fee.
Sony has also added in the Go! Messenger icon which is expected to be available for all versions of the PSP, including the older fat ones, but won't be ready until March. For now the icon just links to a website with more information about Go! Messenger.
3.90, firmware, PSP, Skype, Sony