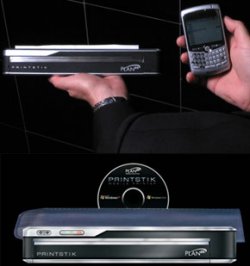 Planon has developed a printer on the go called the PRINTSTIK PS910 that will print any document without having to be connected to a computer.
Using Bluetooth technology you can print from your laptop, BlackBerry, or any device that has Bluetooth capability. It prints up to three pages per minute and supposedly requires very little maintenance. For $299.00 it includes a cartridge of 20 pages plus battery. It takes printing to a whole new level.

Definitely a handy device when browsing the internet for things like bank transactions, show tickets and brochures. How many times have you left the office and forget to bring vital documents, simply have them emailed to your portable device and print them on-the-spot with your PRINTSTIK.