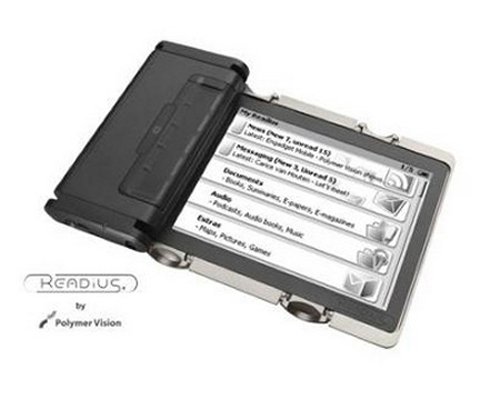 Polymer Vision this afternoon revealed that it is now producing the Readius, a device they are billing as the world's first phone with foldable display. It's more advanced than Amazon's Kindle and uses a 5-inch e-paper display that replicates the sharpness of ink and tucks into the main body for portability, creating a much smaller profile than any other e-book reader available.
It's also a full-fledged phone. The Readius can make calls and connect to the Internet in the US and most other 3G-capable areas of the world. This will allow live RSS reading as other real-time information. The device also supports ActiveSync for synchronizing contacts and e-mail with Microsoft Exchange servers and audiobooks, music playback, and basic games stored on microSDHC cards up to 8GB in size. With the e-paper display, it can last for as long as 30 hours for reading and longer than many phones when it comes to calls.

Polymer Vision has no price yet for the Readius but expects it to be available in stores sometime around mid 2008 at a price comparable to smartphones.