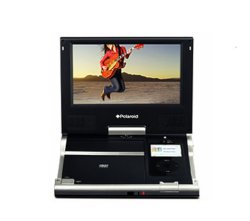 Polaroid's DPJ-08580B is only one of a hundred gadgets that go with your iPod, but it manages to stand out admirably. The device is basically a portable DVD player with an embedded iPod dock, which will allow you to view videos stored on your iPod in a larger format. Not huge mind you, but larger. The screen is 8.5 inches.
It retails for just 28,000 yen, which is about $252, but if you absolutely have to buy an accessory for your iPod, you will probably get more enjoyment out of this one then most of the other gadgets out there.

Of course, you might want to hold out for one with a still larger screen, but either way it beats the eyestrain that you would otherwise be forced to endure. It also beats slapping a magnifying glass over your iPod screen.
Dock, dpj, DVD, iPod, movies, Polaroid, portable