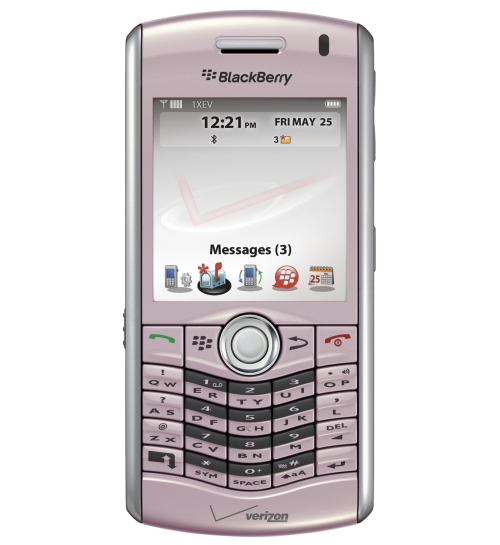 The BlackBerry Pearl has been coming out in a number of new colors lately and we had heard earlier this month that the latest will be this new pink model with Verizon. We knew it was coming soon and today Verizon Wireless along with Research In Motion (RIM) announced that the Pearl in Pink is coming to Verizon stores and online starting tomorrow (Friday).
Gone are the days of smartphones lacking style and color according to Verizon as they describe the pink BlackBerry Pearl 8130 as "chic and sophisticated", and it still packs all the same communication features of it's bland siblings and Verizon's tools via the EV-DO network. The pink version, just like the others can browse the web with the Verizon wireless broadband connection, has a speakerphone, 2 megapixel camera, media player, external microSD memory card slot, wireless Bluetooth and that not-quite-QWERTY keyboard.
Verizon is offering the Pearl 8130 in the new pink color for $199.99 with a two year contract and after a $50 mail-in rebate. A nationwide email and web plan for BlackBerry customers through Verizon gives unlimited data for an extra $29.99 a month, and they are also offering an additional $100 credit if customers sign up for certain voice and data plans.