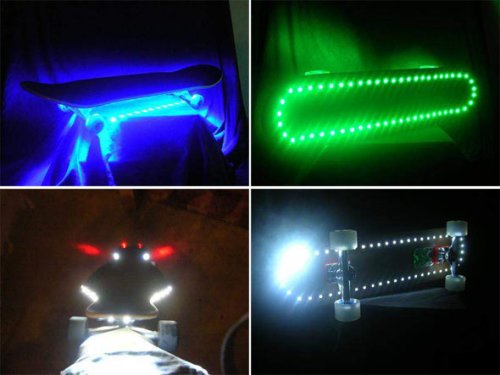 If I were a skater I would do all of my skating at night using the Photon Light Board. I would turn a 360 pivot into an ollie while people would swear up and down that they saw a bright neon UFO descend down that staircase.
With the Photon Light Board, I could do it too. Since all the boards have such highly customizable lighting patterns and many colors to choose from. It would be like doing tricks on a Lite-Brite. But I'd probably break my neck doing a rad stunt… So it's probably best if I let that dream die. But you don't have to. You can ring your board with LEDs, add drop lighting, or even skateboard headlights. Each Photon Light Board has about 30 lights.

For the board alone, it will cost you $110 to $120. You can get the full package for $200.
[Photon Light Boards] VIA [Dvice]