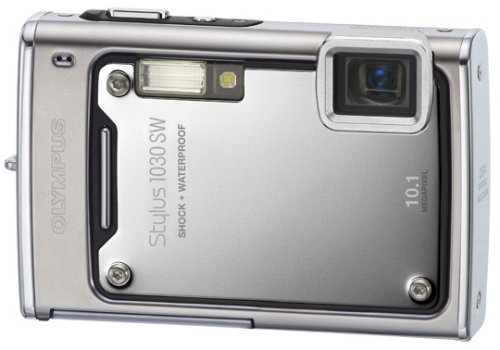 Any fans of the rugged Olympus Stylus models will be happy to hear that they've giving the Stylus 720 SW an upgrade with a couple new models. The 10.1 megapixel Olympus Stylus 1030 SW is the tougher of the two and comes encased in an all-metal chassis with the ability to withstand drops from 6.6 feet.
Not only can the 1030 take a hit but its frame can withstand 220 pounds of pressure. It's also rated as waterproof for taking photos underwater at up to 33 feet below the surface and can stand cold of down to 14 degrees Fahrenheit (remember that water freezes at 32).
It also comes with a lot of the features you would normally expect such as 3.6x optical zoom lens, face detection, image stabilization, red-eye removal, multiple scenes including underwater, snow and beach, and support for MicroSD and xD cards. Olympus says the Stylus 1030 SW will be available in March with a retail price of about $400. Its smaller sibling, the Stylus 850 SW, takes drops of 5 feet, can handle 10 feet of water and will go for around $300 yet this month.
Olympus Stylus SW Cameras via Crave