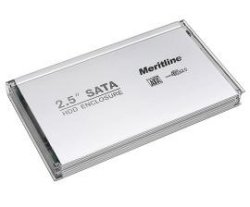 Let's say you pulled that old 40GB hard drive out of your notebook and replaced it with 160GB of storage. Ever wish you could do something else with the leftover drive, instead of throwing it away? Now you can. Just stick it in an enclosure and turn it into a portable USB hard drive.
Meritline.com has an enclosure for just $10.99 shipped (after entering coupon code HW1971413OFF, which expires 1/25). It's compatible with all 2.5-inch IDE and SATA drives, and includes both IDE and SATA external interfaces (with cables). You also get a carrying case and a little screwdriver so you can open and close the enclosure. The drive itself is powered entirely by the interface, so you don't have to use an AC adapter. Best of all you're recycling and not throwing the old drive away and crapping up the environment.

That's a portable hard drive for $11 great for transferring files, and doing on-the-fly backups.
[Meritline] VIA [CNet]