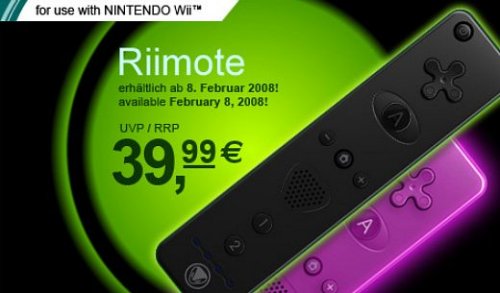 It was only a matter of time. After the initial success of any Nintendo product there follows a plethora of neat and nauseating colors upchucked onto the market. That time is at hand once again. There's still no official word from Nintendo on anything but white Wii-motes, but now there is a third-party option for those of you bored with the standard white.
One of the first companies to offer a third-party substitute for the Wii-mote is Snakebyte. They are calling them Riimotes. They appear to look very close to the authentic Wii-motes, with the button design styles a bit different. The first models will be available either in a glossy black or a bright purple. Bright purple? Yuck! Maybe if you are playing a My Little Pony game…They should assault your senses in early February.

One drawback. As of now they are $59, but I'm sure they will drop soon enough.
[Wii News Daily] VIA [Technabob]
colors, controller, Nintendo, remote, Wii, Wiimote