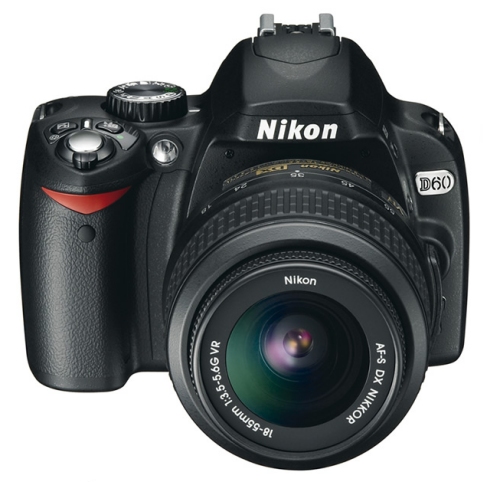 Nikon threw out a new digital SLR today with the D60, basically a repeat of the D40X we saw earlier last year with some nice added features. This camera stands out as one of the smallest, most compact SLR models on the market with the same 10.2 megapixel image processor as its predecessor.
Some nice features in the D60 that can't go unnoticed include the Retouch Menu for in-camera editing of images and the Stop-motion feature that lets you string together a number of still JPEGS to create a stop-motion animation. A fast shooting mode brings the ability to shoot 100 JPEG stills at 3 frames per second, which is pretty fast but still a little behind the 12.2 megapixel Canon Rebel with 3.5 fps.
Images can be viewed through a 2.5-inch display (no inline), and the D60 uses SD media, is SDHC compatible and also offers an optional wireless remote control.The Nikon D60 is expected to hit shelves sometime in the next two months, and the company didn't have a price point at this time.
UPDATE: Nikon has said that the D60 should be on shelves by the end of February with a price tag of $750.
camera, Digital Cameras, DSLR, Nikon, Nikon D60, SLR