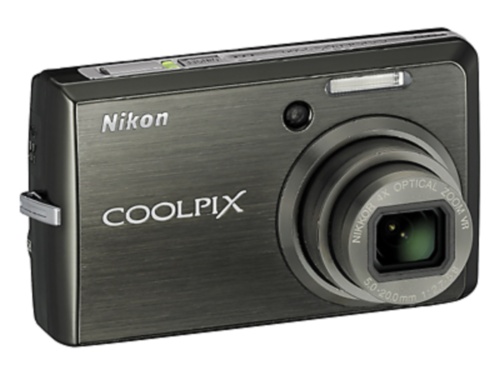 Nikon is showing off its early 2008 load of digital cameras this week and one which is in the spotlight is the Coolpix S600. It is priced at around $300.
The Coolpix S600 is a compact, stylish 10-megapixel shooter available in a black body color. It offers a 4x wide-angle 28-112mm Zoom-NIKKOR lens, technology to compensate for camera shake and ISO abilities up to 3200. Start up time is rated a quick 0.7 seconds, according to Nikon.
The Nikon Coolpix S600 will be available in March. You can get full details after the jump.
Nikon Sets the Standard for Style, Size and Speed with the New COOLPIX S600
New Compact Digital Camera is Remarkably Small and Astonishingly Fast
MELVILLE, N.Y., Jan. 29 /PRNewswire/ — Nikon is pleased to introduce
the COOLPIX S600, a stylish new camera that features fast start-up time,
advanced functions, outstanding photographic performance and a slim,
stylish body. Boasting 10 effective megapixels, a 4x wide-angle 28-112mm
Zoom-NIKKOR lens, Optical Vibration Reduction (VR) Image Stabilization and
the fastest start-up time for any camera in its class, the COOLPIX S600 is
perfect for consumers who want stunning photos and an equally stunning
camera. The COOLPIX S600′s all-metal body will be available in ultra-cool
Slate Black.
The S600, along with Nikon's entire line of photographic, optical and
digital imaging solutions, will be on display at the PMA 2008 tradeshow,
from Jan. 31 to Feb. 2 at exhibitor booth # G220.
"We are very excited to offer the COOLPIX S600, as we feel the camera
embodies the stylish design and advanced imaging capabilities of the
COOLPIX Style Series," says Bill Giordano, General Manager, Marketing,
COOLPIX for Nikon Inc. "With the COOLPIX S600, consumers will be able to
take stunningly sharp photos, faster and easier than ever before."
For sharp photos with outstanding clarity, the COOLPIX S600 features
full-time Optical VR Image Stabilization technology, which compensates for
camera shake and has ISO capabilities up to 3200, providing an excellent
range for low-light performance. For compositional freedom, the S600 is
equipped with a 4x Zoom-NIKKOR lens for capturing everything from vast
landscapes to intimate portraits, and a 2.7-inch high-resolution LCD screen
for shooting and sharing images.
The COOLPIX S600 is a high performance camera, boasting extraordinary
speed. It turns on in just 0.7 seconds, making it fastest in its class.
Shutter response and autofocus speeds are quick and responsive, ensuring
the camera is always ready to go.
Powering the camera's function is EXPEED(TM), Nikon's signature imaging
processing system for enhanced noise reduction and improved signal-to-noise
(S/N) ratio.
For capturing action shots or fast moving kids, the COOLPIX S600 adds
an Active Child Mode to the 14 existing scene modes that are standard in
COOLPIX cameras. This feature allows the user to select and frame his or
her subject prior to shooting. If the subject moves, the camera will track
and focus on the moving subject as you shoot for faster, more reassuring
operation and sharper results. Additionally, the COOLPIX S600 features a
new Pastel Mode, which produces images with a beautiful watercolor effect.
The S600 continues Nikon's tradition of including its unique image
innovations in its COOLPIX cameras. The S600 features enhanced
Face-priority AF*, which automatically finds and focuses on up to five
face's within the frame; In-Camera Red-Eye Fix, which can automatically
detect and correct red eye in a photo; and D-Lighting, which compensates
for excessive backlight or insufficient flash in images.
The COOLPIX S600 comes bundled with Nikon's Software Suite, a powerful
and user-friendly tool that makes transferring, organizing, editing and
sharing photos a snap. The camera is SDHC compatible and utilizes the
ultra-compact EN-EL10 rechargeable Li-ion battery.
The COOLPIX S600 will be available nationwide in March 2008 at an MSRP
of $299.95.
TAGS:
Coolpix, Digital Cameras, Nikon