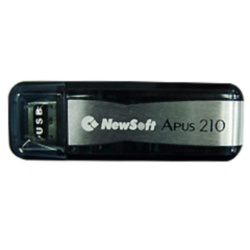 NewSoft is out with a new USB flash drive which looks like it might be able to act as an assistant to those who want to use wireless laptops with compatible projectors or displays for doing presentations. It is called the NewSoft Presto! WMS 200 and pricing is around $45.
The NewSoft Presto! WMS 200 is a flash drive which connects to a standard computer's USB port. Once connected you can launch the company's Presto! software directly off of it. You can use the software – with no installation on your laptop, according to NewSoft – to wirelessly broadcast presentations, video, audio and pictures from the computer to a projector or display.
The Presto! WMS 200 includes 512MB of storage space. It is available now.