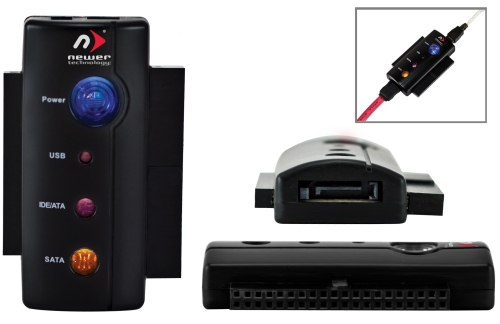 We've seen some pretty handy adapters to connect your internal drives, externally to your computer with things like the Stage Rack and this USB to SATA adapter but none of them match the convenience of the USB 2.0 Universal Drive Adapter from NewerTech. This adapter not only connects SATA drives to your computer's USB port, but it will handle ATA/IDE drives as well.
Anytime I upgrade computers or just upgrade my drive I always keep the old one because inevitably a day will come where I want something off of it that I thought I would never need again. Opening up the computer case is a real pain and adapters like this are well worth the money in the time it saves alone. The adapter works with all 2.5″ laptop drives, 3.5″ desktop drives and will connect any existing 5.25″ drives such as CD-ROMs, DVD-ROMs or removable Iomega Zip drives.
The drive works equally well with Windows, Linux and Mac OS X, and NewerTech is debuting the drive at the MacWorld Expo 2008 starting Tuesday, with a very acceptable price tag of just $29.95.
[Thanks to all that sent this in!]
NewerTech USB 2.0 Universal Drive Adapter
Drive Adapter, NewerTech, USB, USB adapter