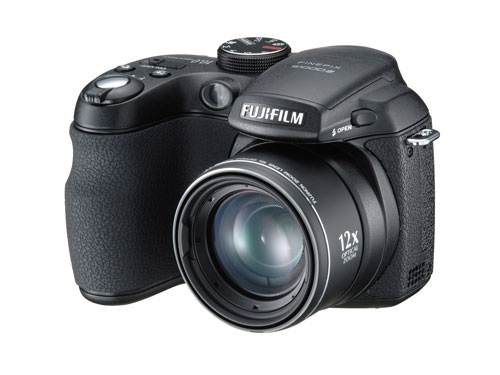 Another impressive new Fujifilm digital shooter making the rounds this past week was the Fujifilm FinePix S1000fd. The company says this camera has the distinction of being the word's smallest 12x optical zoom model on the market at the moment.
The Fujifilm FinePix S1000fd, priced at around $250, sports 10-megapixels, face detection technology with automatic red eye removal and a new panoramic shooting mode. It also has a 2.7-inch LCD display and electronic viewfinder.
This particular Fujifilm SLR-like digital camera will ship in April. You can get the full details after the jump.
FUJIFILM UNVEILS WORLD'S SMALLEST* 12X OPTICAL ZOOM DIGITAL CAMERA
SLR-Style FinePix S1000fd Extends Range and Feature Set With Longer Zoom,
Larger LCD and New Panorama Shooting Mode
Valhalla, NY, January 24, 2008– FUJIFILM U.S.A. Inc. today announced the successor to the wildly popular SLR-styled FinePix S700 with the introduction of the world's smallest digital camera with a 12x optical zoom, the FinePix S1000fd.
Perfect for advanced amateur photographers who want an affordable, step-up digital camera, the 10-MegaPixel FinePix S1000fd builds on the legacy of the FinePix S700 with the addition of a Fujinon 12x optical zoom (33mm-396mm equivalent) for greater range and flexibility, Fujifilm's proprietary Face Detection Technology with Automatic Red Eye Removal, and a brand new Panoramic Shooting mode.
Face Detection with Automatic Red Eye Removal
Face Detection operates by identifying and prioritizing up to 6 faces in a framed scene, and then adjusting the focus and exposure accordingly to ensure the sharpness and clarity of human subjects in the picture, regardless of background. After a shot is captured each detected face is instantly checked for red eye; if it is found, it is corrected automatically, saving the time-consuming process of fixing it later.
Panorama Shooting Mode
For catching beautiful scenery or very large groups, the new Panorama Shooting mode makes it easy to create impressive panoramic photos. This mode captures and combines a maximum of three consecutive shots at 3 MegaPixel resolution each, which are saved to the memory card as a panoramic picture.
Rounding out the FinePix S1000fd's powerful feature set is a large 2.7″ high-resolution (230k pixel) LCD plus electronic viewfinder (EVF) and ISO levels of up to ISO 1600 at full resolution and ISO 3200 at 3 MegaPixel resolution.
Fujifilm's new FinePix S1000fd also offers the following useful features:
* Picture Stabilization mode: A selectable mode, Picture Stabilization uses the heightened sensitivity of the FinePix S1000fd and high-speed shutter settings to reduce blur caused by hand-shake or subject movement. It allows the camera to automatically choose the correct light sensitivity and optimal shutter speed to produce clear, blur-free images.
* Full Manual Photographic Control: Photo enthusiasts and advanced photographers have total control with manual adjustment options for various camera settings including resolution, ISO, aperture, shutter speed and more.
* High Speed Shooting: Capture the action with the High Speed Shooting mode: 7.5 fps @ 2MP for 15 shots; 3.3 fps @ 5MP for 6 shots; and 1.4 fps @ 10MP for 3 shots.
* Movie Recording: VGA quality at 30 frames per second with sound.
* 14 Pre-programmed Scene Modes: The FinePix S1000fd features 14 pre-programmed scene modes that offer a one-touch setting for almost any situation, including: Portrait, Landscape, Sport, Night, Fireworks, Sunset, Snow, Beach, Museum, Party, Flower, Text.
* xD / SD / SD-HC Compatible slot: The FinePix S1000fd features an "xD/SD Compatible slot" which accepts not only Fujifilm's traditional xD-Picture Cards but also Secure Digital (SD) and SD-High Capacity/SD-HC cards too.
* Operates on 4xAA Batteries: The ultimate in convenience and accessibility, using AA batteries means in a pinch, more batteries are just moments away.
"With the FinePix S1000fd, Fujifilm is offering advanced amateur photographers an affordable, step-up digital camera," said David Troy, senior product manager, Consumer Digital Cameras, Electronic Imaging Division, FUJIFILM U.S.A., Inc. "Fitted with a Fujinon 12x optical zoom for greater range and flexibility and a new Panoramic Shooting mode for capturing beautiful scenic shots with ease, the FinePix S1000fd is packed full of high-end features and priced at a level consumers can afford."
The FinePix S1000fd will debut in April 2008 at a retail price of $249.95.
Digital Cameras, fujifilms