| | |
| --- | --- |
| | |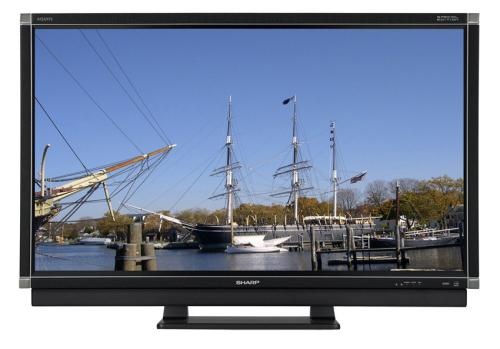 Sharp towed to CES this week its usual interesting line up of cutting edge consumer electronics. A shining example of this is its AQUOS SE94 series flat panels which, among other features, are Internet-enabled. This particular family of Sharp televisions ranges in size from 46 to 65 inches and is priced between around $3,200 and $11,000.
The Sharp AQUOS SE94 series can, when connected to an Ethernet port, let you access a Sharp service which provides "customized Web-based content as well as real-time customer support directly on the AQUOS television." The company, working with Web based content providers, says you'll be able to configure widgets which let you get information like the local weather forecast as well as enjoy your favorite comic strip via your remote control.
For more details on these new Sharp televisions, check out the full press release after the jump.
SHARP'S "SPECIAL EDITION" 1080P AQUOS® LCD TVS CHANGE THE FACE OF FLAT PANEL TV WITH TOP NOTCH SPECS, SOPHISTICATED STYLING AND INTERNET-BASED SERVICES
Premium Widescreen LCD TVs Boast High Contrast Ratio and Internet Content
LAS VEGAS, January 7, 2008 – Reinforcing its position as an innovative leader in the LCD TV industry, Sharp is introducing a new series of limited-distribution, "Special Edition" Full HD 1080p AQUOS® models that offer ultra-high performance, advanced connectivity, and trend-setting, contemporary style. The AQUOS SE94 series, which includes the 65-inch LC-65SE94U, 52-inch LC-52SE94U and 46-inch LC-46SE94U, combines a best-in-class picture quality with a distinguished new "Cornerstone" design. Equipped with the most advanced version of Sharp's true 16:9 1080p (1920 x 1080 resolution) Advanced Super View (ASV) Panel, the new SE94 series features the groundbreaking AQUOS Net capability, a service that is able to give customers instant access to customized Web-based content as well as real-time customer support.
"With its stunning picture and gorgeous design, the AQUOS SE94 series is truly the new `cornerstone' of the AQUOS line of LCD TV's," said Bob Scaglione, senior vice president and group manager, Product and Marketing Group, Sharp Electronics Corporation. "The included AQUOS Net service makes the television so much more. Not only can consumers access Internet-based content, but they can receive enhanced service on their television via an Internet connection."
Cornerstone Design
The SE94 series' distinguished "Cornerstone" design sets these models apart from the competition, combining a stunning, new textured finish with eye-catching corner accents and detachable bottom speakers to match modern home décors. As with the AQUOS D64 series, the SE94 series features a slim-line design that's 28% slimmer than the previous generation and 9% lighter*. The units also include a detachable table stand for wall mounting flexibility.
AQUOS Net
When connected to an existing Internet connection through the unit's Ethernet jack, SE94 users can access AQUOS Net, a revolutionary service that is able to provide customized Web-based content as well as real-time customer support directly on the AQUOS television. Sharp intends that SE94 owners will be able to configure "widgets" to check the local weather forecast, get stock quotes or even follow their favorite comic strip, while watching television, all directly from the TV's remote control. Sharp is working with Web-based content providers to deliver reliable, constantly updated information.
Through AQUOS Net, consumers will also have access to unparalleled customer support for their television, including the ability to have dedicated Sharp advisors connect remotely to their TV to assist in adjusting the TV's settings and optimizing picture quality for the best viewing experience. This interactive tool, known as AQUOS Advantage Live, is easily accessible from the AQUOS Net Portal Website. In addition, AQUOS Net provides consumers with instant access to important information about their television. Consumers can find FAQ's that explain HDMI™, HDTV and other TV technology-related features, as well as view the user manual directly on the AQUOS LCD TV. A "What's New" page will also be available, outlining exciting new products and news from Sharp.
Ultimate Picture Quality
The Advanced Super View Panel on the SE94 series provides an incredible Dynamic Contrast Ratio of 27,000:1, for exceptional detail in both light and dark scenes. Sharp's proprietary Fine Motion Advanced technology offers 120Hz frame rate conversion, doubling the traditional 60Hz driving speed, for even finer video performance. Sharp's new proprietary 10-bit ASV panel provides more accurate color and the industry-leading 4ms response time ensures flowing motion in fast-action scenes. These new models also incorporate Sharp's proprietary 5-wavelength backlight system that provides deeper, more vibrant reds and truer greens than previously possible. With viewing angles of 176 degrees, consumers can experience the superior picture quality from virtually anywhere in the room.
The SE94 series includes a number of 1080p-compatible inputs including three HDMI™ (version 1.3 with x.v.Color™) and two component video inputs. The units also house an RS-232C port for custom installations and a dedicated PC input. The SE94 series TVs incorporate ATSC, QAM and NTSC tuners, giving consumers access to analog and digital programming available over the air and via cable TV providers.
Additional features include a 3D-Y/C digital comb filter to help eliminate dot crawl and the moiré effect, which occurs when viewing a superimposed set of lines or dots, and Sharp's OPC Power Save feature, which automatically adjusts luminance to room brightness and lighting conditions.
For those consumers who wish to connect their AQUOS Net-enabled TV to a source in another room, Sharp will soon be offering Power Line Communications (PLC) adapters as an easy-to-install solution. Available in March will be the HN-VA100U (1-port adapter), HN-VA400U (4-port adapter), and the HN-VA401SU (Starter Kit bundling the 1-port and 4-port adapters). All adopt the HomePlug A/V standard for universal compatibility and reliability.
Pricing and Availability
* The LC-65SE94U will be available this month for a Manufacturer's Suggested Retail Price (MSRP) of $10,999.99
* The LC-52SE94U will be available this month for an MSRP of $4,199.99
* The LC-46SE94U will be available in February for an MSRP of $3,199.99