| | |
| --- | --- |
| | |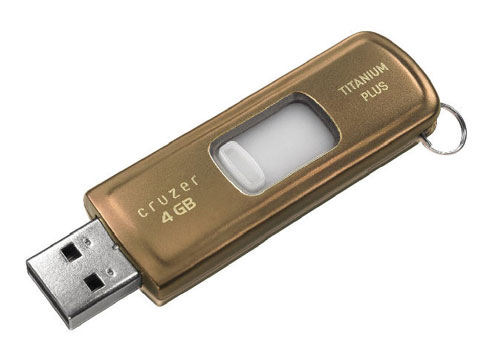 The beginning of a new year signals the event most consumer electronics geeks have been waiting for: the Consumer Electronics Show. We're planning on putting a lot of coverage on this exciting event, including the creation of a category from which you can get the latest news on product announcements. We kick off this category with pre-show announcements – the first of which is a new USB flash drive from SanDisk which will offer automatic online backup of its data.
The SanDisk Cruzer Titanium Plus, priced at around $60, will offer an online backup service compatible with Windows and free for six months before having you incur a $30 a year charge. The 4GB USB flash drive will, after having new files copied to it, automatically back them up to an online account created by the user. An Internet connection is required of course and if one is not available the drive will wait until it detects a live connection through its host computer before backing up new files.
Files backed up can be accessed online without the drive. The online back up service is powered by BelnSync, with data storage being provided by Amazon Web Services. Other features of the Cruzer Titanium Plus include a rugged design and password data protection with AES hardware data encryption. The drive, which will be shown off at CES, is expected in stores in March.