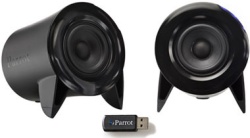 Parrot has been showing off some interesting new Bluetooth-related products at CES this week. One which has been catching a lot of attention are the Parrot DS1120 speakers, priced at around $280.
The Parrot DS1120 speakers have an interesting look about them and are capable of playing back through the Bluetooth A2DP profile audio being streamed over from a viable source. For those devices which do not have this profile integrated, Parrot includes a Bluetooth 2.0 USB dongle which can be connected for broadcast. There is also a standard RCA line-in connection for other devices.
The Parrot DS1120 has a Class-D digital amplifier in each speaker with a total power output of 30W RMS. The bass system is hidden in the speaker stands and the three-button user interface located at the top speaker face is touch-sensitive. Parrot says this speakers will be available in the second quarter of the year.