| | |
| --- | --- |
| | |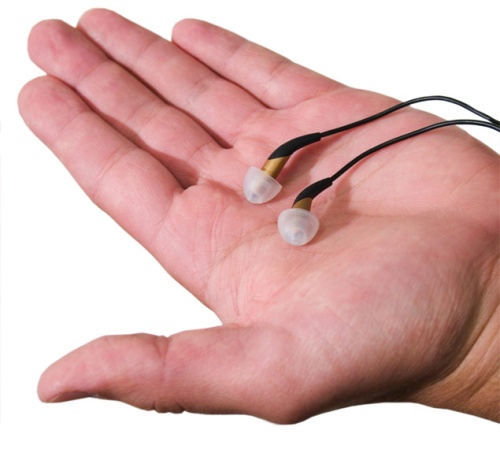 Klipsch, a purveyor of fine audio products, turned a lot of heads at CES this week by unveiling what it calls the "world's smallest, lightest headphones" now available. This new product is the Image and it's been priced at around $350.
Klipsch said the Image headphones, available for purchase now, use a special type of ear gel which is "anatomically designed to accurately fit inside the human ear canal." Each Image comes with three different sized ear gels for a better fit.
You can get more details on the Klipsch Image headphones after the jump.
World's Smallest, Lightest Headphones Now Available
Klipsch makes a huge high-tech fashion statement with tiny audio accessory
FOR IMMEDIATE RELEASE
INDIANAPOLIS (January 7, 2008) — Not only is it the world's smallest and lightest full-range in-ear headphone design, Image from Klipsch fuses lifestyle, technology, and fashion to offer a personalized fit and deliver a precision-tuned acoustic experience. In fact, the Consumer Electronics Association selected Image as an Innovations 2008 Design and Engineering honoree in the headphone category.
"Status symbol products such as the iPod® MP3 player have made technology fashionable," said Tom Gospel, Klipsch program management director. "Therefore, we found it necessary to develop a stylish, must-have audio accouterment that would bring better sound to our in vogue listeners."
Image headphones utilize patent-pending Contour Ear Gels, which are anatomically designed to accurately fit inside the human ear canal. These soft, oval silicon tips reduce ear fatigue as well as provide an amazing seal for excellent noise isolation and increased bass response.
Because ear canal measurements vary, each Image model comes with five different-sized ear gels: small, medium, and large single flange designs as well as small and large double flange designs. Such variety allows these headphones to fit more of the population than the competition.
In order to continue Klipsch's 60-plus years of delivering stunningly precise audio, Image headphones employ exclusive extended-frequency KG926 balanced micro-armatures.
Aesthetically pleasing, Image headphones feature aluminum bodies finished in anodized copper and sleek, aerodynamic-shaped black "tails." These flexible "tails" reduce cable stress and serve as an acoustic dampener to minimize cable noise.
Furthermore, Klipsch has gone to great lengths to ensure the long-lasting durability of Image headphones, up to and including their 50-inch-long vinyl cables. The company has added appropriate strain relief at every cable connection point to help prevent wire damage, while also putting them through extensive "real world" testing.
Image works with the iPhone™ and virtually any device with a standard headphone jack. These headphones also come with a carrying case and pouch, a ¼-inch adaptor, an airline adaptor, five sets of ear gels, and an ear gel cleaning tool.
Priced at $349 (U.S. MSRP), Image headphones are available for purchase at select retail locations and on klipsch.com. As a bonus, purchasers who complete an online warranty registration will receive a free package of replacement Contour Ear Gels in the size of their choice.
earphones, Headphones, image, Klipsch