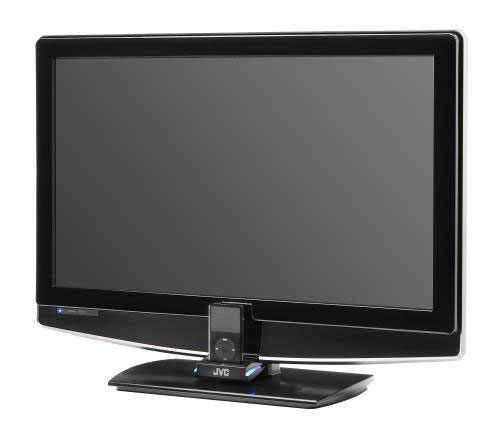 For those that want the easy way to connect their video-capable iPods to the television for video viewing, JVC has just announced from CES its new line up of P-Series LCD TVs with integrated iPod docks. These models have no specific pricing announced yet.
The new P-Series consists of the the 32-inch LT-32P679 (pictured), 42-inch LT-42P789, 47-inch LT-47P789 and the 52-inch LT-52P789. The LT-32P679 is a 768p model, while the others offer 1080p resolution. All sport an integrated iPod dock, letting users interact with an on-screen menu for selecting music or video. The included remote control offers a "circular keypad with a control scheme that mimics the iPod's control wheel."
The feature set of the P-Series continues, with HDMI inputs, multiple aspect ratio viewing modes for iPod videos, iPod charging, surround sound and built-in speakers. Expect the P-Series to debut at various intervals between March and this summer.