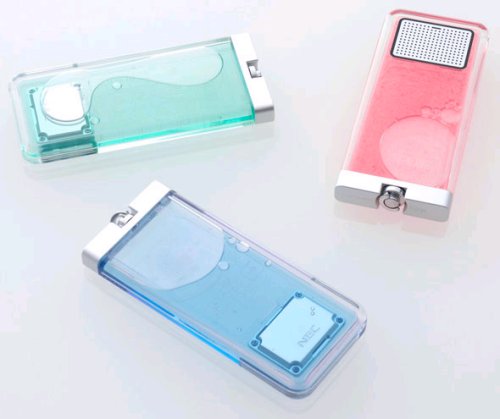 This is the most convenient way to see how much "juice" remains in a device. Juice being battery life and in this case battery life being displayed with liquid. We don't have many details, but this flask phone from NEC looks like it is liquid-powered and touch-screened. This one is so far out there that it must be a prototype.
According to NEC, it's going to be released sometime in 2008, if you can believe that. It doesn't get much cooler then being able to watch the liquid inside drain as you're using the phone, so you can see how much power you have left. (Okay, that's a lame hobby. But the concept is awesome.) Hopefully it will be available here in the U.S. The colors are obviously very woman friendly.

They look more like lighters then phones. Next they can put things inside the liquid so you can play ring toss and other cool games. Man, these are looking better already.
battery, cell phone, concept, flask, liquid, NEC, phone