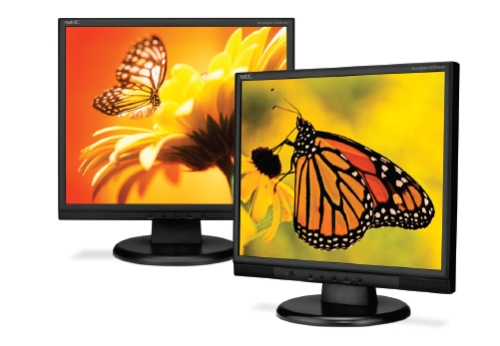 NEC rolled out five new LCD monitors today in the new AccuSync 3 lineup of desktop displays, replacing the monitors in the AccuSync 2 series. The new line of LCDs boast brighter displays than their predecessors along with improved contrast while giving a no-frills display for a reasonable price.
NEC launched three new 17-inch displays – the ASLCD73VX, ASLCD73VX-BK, and the multimedia ASLCD73VXM-BK, and two 19-inchers with the ASLCD93VX-BK and the multimedia ASLCD93VXM-BK. The two multimedia models differ by housing built-in speakers.
All models offer 1280 x 1024 max resolution, 300 cd/m(squared) brightness, 5ms response time and Eco Mode which conserves power and extends the life of the display itself. They all are available now in a black frame (with the option of white for the 17-inch model), priced from as low as $224.99 for the 17-inch ASLCD73VX to a maximum of $274.99 for the 19-inch multimedia.
17 inch, 19 inch, AccuSync, display, LCD, monitor, NEC