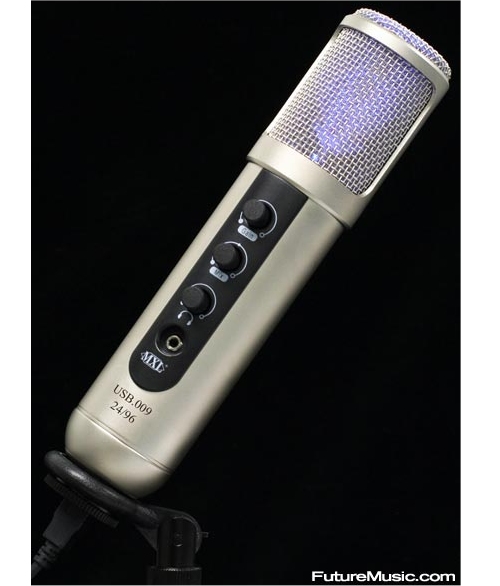 MXL has announced the release of what they are boasting as the world's first "plug and play" USB microphone that features 24Bit/96 kHz recording. According th MXL the new USB.009 microphone can deliver "world class sound reproduction" by simply plugging the USB connection into an ordinary laptop running Windows or a Mac OS. Before making an effort to audition for the next American Idol you may want to use this guy to get an accurate listen of your voice, first. It might just save you an embarrassing spot on prime time television.
The MXL USB.009 microphone features a recording capability of up to 96kHz, a gold sputtered diaphragm, 24-bit A/D and D/A converters, and a dynamic range of 114 dB. It also houses an adjustable level control, mix control and a 1/8th-inch stereo headphone jack all withing the microphone. And our favorite part is the blue LED light that glows inside the microphone grill letting you know its powered on and of course giving it just the right amount of geeky-coolness.
The MXL USB.009 comes packed with a desktop stand and a flight case among a few other accessories and retails for just under $400.
MXL USB Mics
Image via FutureMusic