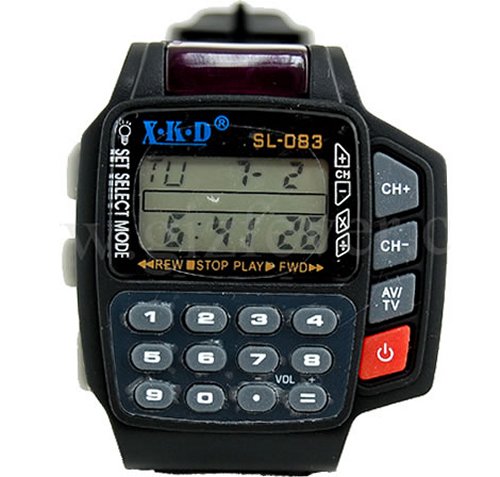 If you like to be the one in control at all times, I present to you your new watch. This watch will allow you to control TVs and other devices from many popular brands – Sony, Panasonic, Philips etc. from up to 5 meters away. Just aim the watch at the appliance and channel surf.
Some features include: An LED Back Light, Time and Date mode, Auto-Week, Auto-Calendar up to the year 2049, 12/24 Hour formats, 8 digits Calculator, Alarm and hourly time signal, 1/100 second stopwatch with split Volume, and channel switching and power ON/ OFF remote control for several remote control TV, VCR, DVD, VCD, SAT.

Perfect for those covert or not so covert little pranks, like turning other people's TV's off for instance. You can dominate TV's with this new watch for just $21.99.
multimedia remote, Television, watch