| | |
| --- | --- |
| | |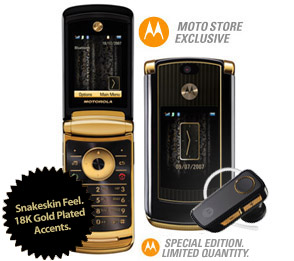 The ultimate glamorous feature phone is now available in the U.S. Motorola, Inc. announced today that MOTORAZR2 V8 Luxury Edition is available in the U.S. exclusively through MOTO STORE. It features the signature MOTORAZR2 form factor with gold-plated accents on medallions, navigation key and hinge and it's embossed in a snakeskin-like texture. It's available unlocked for GSM networks.
Without even opening the flip, users can read and respond to texts on the large external display, which also boasts touch-sensitive music controls, picture caller ID and self-portrait camera display. Motorola's CrystalTalk technology helps insure clear calls by automatically accounting for background noise and adjusting the audio accordingly. Travellers will appreciate the device's quad-band technology to stay connected while traveling the globe.

If it's web-surfing you want, surf the Web on MOTORAZR2 V8 with the Opera Mobile Browser 8.5. Capture pictures in high-resolution with a 2.0 megapixel camera with 8x digital zoom and up to 2 hours of video capture and playback. You can also enjoy music with up to 2GB of on-board storage for up to 1,000 songs, lightening-fast over-the-air downloads and compatibility with Windows Media Player 11 on the PC, enabling access to over 200 online music stores.
It's available exclusively through MotoStore (www.store.motorola.com) for $679.99.