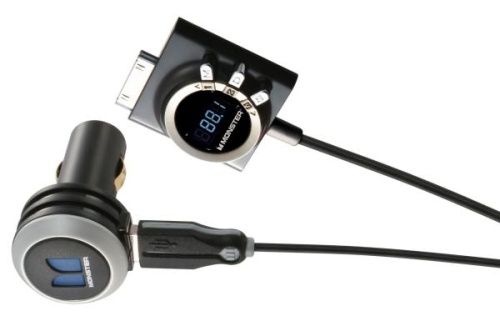 Monster unveiled during the Consumer Electronics Show what it is calling the most advanced wireless FM transmitter yet for the iPod. It is called the Monster iCarPlay 250 and Monster is pricing it at around $100.
The Monster iCarPlay 250 lets you enjoy your iPod audio through your car's FM radio while at the same time charging your player. This particular FM transmitter offers some technologies to help do this in the most efficient way possible: autoscanning to lock in the clearest FM frequency, line-level audio signal output for "minimal distortion" and automatically adjustment of power output on individual frequencies for maximum signal strength.
Other features of the Monster iCarPlay 250 include a built-in USB port so you can charge other handheld devices with the appropriate cable, a three button control and blue LCD display. No specific word on availability.
FM Transmitters, iPod Accessories, iPod FM transmitter, Monster