| | |
| --- | --- |
| | |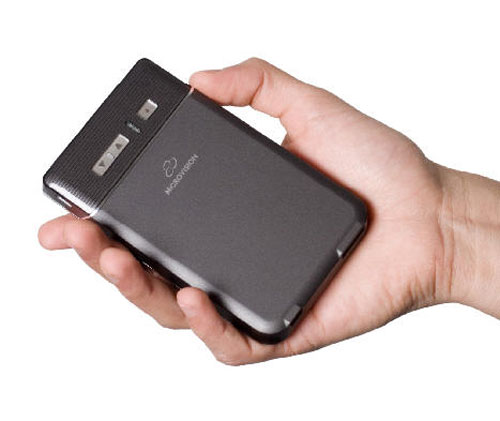 Microvision, a light-scanning technology developer, is bringing to CES to showcase an advanced prototype of "the first handheld, battery-powered, plug-and-play projector based on the company's single micro-mirror laser scanning display technology." The company is calling this new pico projector for now the Show.
The Microvision Show is powered by the company's proprietary "ultra-miniature PicoP display engine." This technology will, according to Microvision, let you project a widescreen, WVGA (848 X 480 pixels), DVD quality image from the projector in a range anywhere from 12 inches (30 cm) to 100 inches (2.5 m) in size depending upon the projection distance.
The Show, in its production version, is designed to get 2.5 hours of battery life and can be connected directly to laptops, mobile phones, portable media players (PMPs), digital cameras and other mobile devices for video projection. Microvision believes a commercial version of this tiny projector will be available by the end of the year.