| | |
| --- | --- |
| | |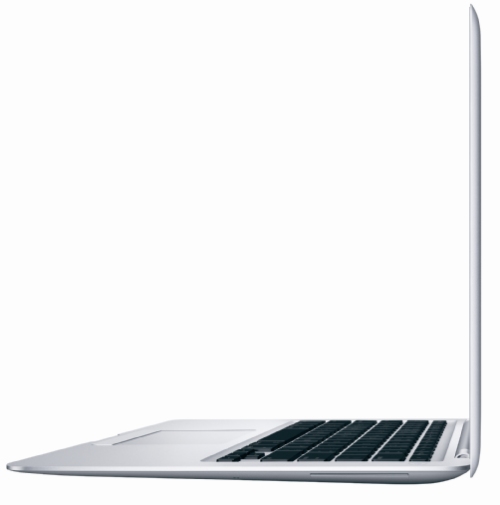 It looks like those MacBook Air rumors were really not too far off. Today Steve Jobs announced the latest addition to the MacBook lineup at MacWorld in San Francisco, touting it as the thinnest notebook in the world. The MacBook Air measures a mere 0.16 inches at its thinnest point, and it only gets as thick as 0.76 inches at the hinged end.
The Air Mac will start shipping in about two weeks with a retail price of $1,799, and comes with the following features:
13.3-inch LED-backlit glossy widescreen display with 1280×800 resolution;
1.6 GHz Intel Core 2 Duo processor with 4MB L2 cache;
800 MHz front-side bus;
2GB of 667 MHz DDR2 SDRAM;
80GB hard disk drive with Sudden Motion Sensor;
Intel Graphics Media Accelerator X3100;
Micro-DVI port (includes Micro-DVI to VGA and Micro-DVI to DVI Adapters);
built-in iSight video camera;
built-in AirPort Extreme 802.11n wireless networking and Bluetooth 2.1+EDR;
one USB 2.0 port;
one headphone port;
multi-touch TrackPad with support for advanced multi-touch gestures including tap, scroll, pinch, rotate and swipe; and
45 Watt MagSafe Power Adapter.
"We've built the world's thinnest notebook—without sacrificing a full-size keyboard or a full-size 13-inch display," said Steve Jobs, Apple's CEO. "When you first see MacBook Air, it's hard to believe it's a high-performance notebook with a full-size keyboard and display. But it is."
MacBook Air gives a battery life of up to 5 hours, has 802.11n Wi-Fi networking and has a companion MacBook Air SuperDrive available for another $99. The SuperDrive is because, as you may have noticed, there is no optical CD/DVD drive built into it. The SuperDrive connects and is powered via the USB connection to the Mac Air notebook. Customers can also optionally add-in a 64GB solid state drive with no moving parts in addition to the 80GB internal (for nearly double the price of the notebook!).
Apple is also paying attention to the environment with this new notebook, giving it an enclosure made out of recyclable aluminum, a mercury-free and arsenic-free LCD and glass display, PVC-free internal cables, less power consumption than any other Mac, and even the packaging is less than half as much as other MacBooks and made from 100% recycled material. Heck, the packaging shouldn't be much with something this thin; Jobs even pulled it from a simple manila envelope in the keynote speech.
Apple, laptops, MacBook, macbook air, Notebooks