| | |
| --- | --- |
| | |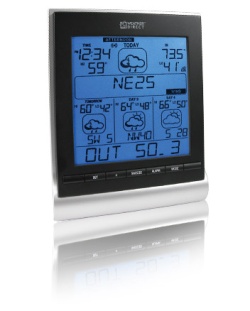 Everything in technology is getting more advanced and convergent it seems like. We even now have Internet-powered weather stations, as unveiled by La Crosse Technology this week at CES. The company's Weather Direct system will consist of a product line with prices ranging from around $50 to $130.
The La Crosse Weather Direct platform uses a high speed Internet connection "to deliver customizable multi-day forecasts and current weather information for up to five cities of the more than 600 available city choices." You can get this information in the form of on-screen displays, weather alerts and voice greetings. A Weather Direct station must be connected through Ethernet to work properly.
You can get more information on the La Crosse Weather Direct after the jump.
LA CROSSE TECHNOLOGY® UNVEILS NEXT GENERATION OF PERSONAL WEATHER SYSTEMS AT 2008 CONSUMER ELECTRONICS SHOW
~ First Internet-Powered Weather System is New Concept in Weather Forecasting ~
La Crosse, WI, January 7, 2008 — La Crosse Technology®, the industry leading designer, manufacturer and marketer of personal and professional wireless weather instrumentation, unveiled the world's first Internet-powered weather system — WEATHER DIRECT™ — at the 2008 Consumer Electronics Show, today, in Las Vegas, NV. This revolutionary system is the first to utilize the Internet and is a totally new concept in weather and time instrumentation that is easy to install and use.
"As personal weather devices have evolved from the Galileo thermometer to today's wireless, digital weather stations, La Crosse Technology® has been at the forefront, driving the market with innovative and cutting-edge product development," says Allan McCormick, president of La Crosse Technology®. "Today, our company is proud to premiere this revolutionary step in weather systems."
WEATHER DIRECT™ is an Internet-powered, personal weather system that uses a high-speed Internet connection to deliver customizable multi-day forecasts and current weather information for up to five cities of the more than 600 available city choices. WEATHER DIRECT™ provides weather alerts, atomic time, automated voice greetings, news feeds and much more.
The WEATHER DIRECT™ system is based on a proprietary technology of La Crosse Technology. "The Internet is the greatest communication tool since the telephone, and it has changed our lives forever," says Dick Norford, National Sales Manager for La Crosse Technology®. " We are excited to unveil a system that follows suit with this technology. WEATHER DIRECT™ is designed to work in partnership with the latest technology tool as it emerges in the years to come. Unlike current systems, WEATHER DIRECT™ has the ability to expand and upgrade, so this weather forecasting system will always be fresh, current and up-to-date."
"La Crosse Technology® is the technology innovator in the wireless weather arena," adds McCormick. "We take great pride in being the primary designer, manufacturer and distributor of new, revolutionary, `next step' products that are meeting the current and emerging needs of today's consumers. As a company totally committed to customers, we offer immediate support and have complete customer service in-house."
How it works
"There is nothing else like WEATHER DIRECT™ on the market today," says Norford. "WEATHER DIRECT™ is truly revolutionary, and it is so simple to use that anyone can do it. The company has made installation and operation as `easy as one, two, three.'"
First, consumers open the box and register the product online. Once registered, they select their own forecast locations and the type of information they wish to receive. Next, consumers simply plug WEATHER DIRECT™ into their network router, and the information they requested automatically appears on the WEATHER DIRECT™ system.
"Because WEATHER DIRECT™ is Internet-powered it delivers the most comprehensive, reliable and up-to-the-minute weather information," adds Norford. "No other personal weather system provides on-demand weather information, making WEATHER DIRECT™ truly one of a kind."
WEATHER DIRECT™ is designed to fit a person's real life. "This is weather information consumers want, delivered how, when and where they want it – automatically," adds Norford. "We have focused on making WEATHER DIRECT™ expandable, affordable and personally relevant to the individual consumer."
Consumers can choose to have weather information for their home location and four additional locations of interest sent to their personal WEATHER DIRECT™ display, with the ability to update the location choices and requested information at any time. WEATHER DIRECT™ can be expanded to receive a wider variety of forecast locations, such as the current conditions at their favorite golf course and the ability to receive weather alerts for a specific location.
WEATHER DIRECT™ replaces the "thundering" alarm clock by providing an elegant wake-up sequence. A pleasant voice awakens an individual with a customized, daily forecast and news that is relevant to his or her daily life.
La Crosse Technology® gathers weather and related data from a variety of trusted sources such as satellite-assisted forecasting weather systems and Really Simple Syndication (RSS) news and information feeds. The data is then aggregated and restructured for distribution via the company's WEATHER DIRECT™ servers. The system is extremely affordable with a retail price range of $49.99 – $129.99.
LaCrosse Technology products are available at leading mass, specialty and catalogue retailers.