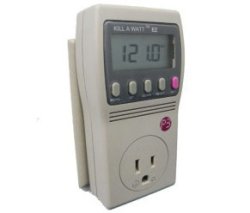 Do you like to to save money? To qoute Sally Struthers, "Sure, we all do." Do you like to save energy? To qoute my father when I was growing up, "Turn the damn light off. Were you born in a barn?"…Or something like that. The point is, with all of our Plasma TV's and many gadgets, it's nice to save money and energy when possible. But do you have any idea how many kilowatts your gadgets use?
Kill-A-Watt EZ Plug Power Meter measures just how much juice your gadgets and appliances are using, much like the Intelliworks Energy Saver. It will not only measure the power your gadgets are using, but it will tell you how much it is already costing you and what it will cost in the future.

Armed with this knowledge, you can save money by unplugging or getting more cost efficient appliances. Also you can check the quality of the power that is coming in from the power company. It's a very worthwhile investment at $59.95, and can potentially save you hundreds of dollars down the road.
This device will not automatically adjust the electricity in your devices like the Intelliworks Energy Saver will, but it will tell you everything you need to know about your energy. Knowledge is power.