| | |
| --- | --- |
| | |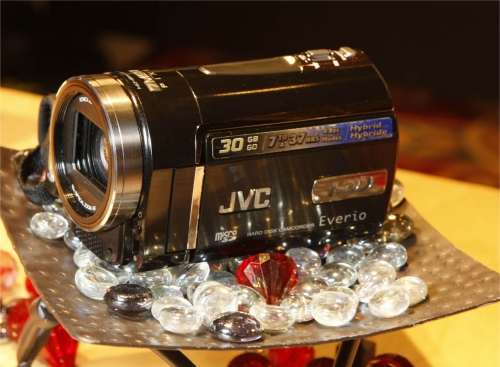 At the CES show this year JVC is launching a new line of their Everio hard disk camcoders, ranging in features, hard drive capacities and even coming in four different colors. JVC is also touting this new lineup to currently be the worlds smallest HDD camcorders available at around 20 percent smaller than the previous models.
All these camcorders utilize a hard disk drive to store video and pictures, ridding the need for discs or tapes, and they come with HDD capacities of either 30GB or 60GB and with or without docks depending on the model. They all also feature an SD card slot, 2.7-inch widescreen LCD and a new touch-sensitive scroll bar to the right of the LCD screen for navigating the menus and selecting videos. This sounds like it would be nice since it still allows easy touch navigation but lets JVC use a better display and avoid finger prints all over it, as what happens when using an actual touch screen.
The new Everio lineup basically consists a two models. Four of which are the 680K-pixel models that range in price from $500 to $600 depending on the hard drive capacity and whether or not you would like a dock to come with it. The fifth is the GZ-MG730 model for $800 and features a smaller 1.3″ hard disk drive at 30GB, making room in the slim frame for the large 1/2.5", 7.38 Megapixel CCD and its large optical lens. JVC says the first four models will be available yet this month with the higher-end one coming next month.
Camcorders, Everio, HDD Camcorders, JVC