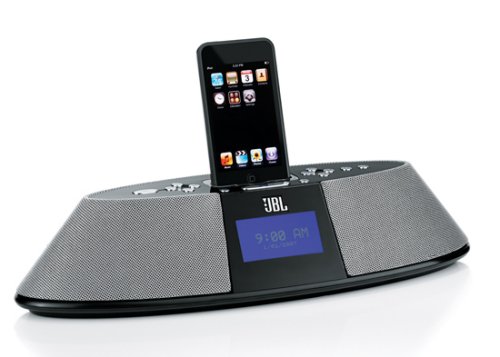 I bring you more CES 2008 goodness. The On Time 200ID lets you wake up to your iPod, iPhone, radio, or a simple buzzer. If you want to connect other devices, it also has a 1/8th-inch line input. The one-piece speaker has a backlit LCD as well as touch-sensitive controls, and a backup battery to preserve your settings if power is interrupted.
The On Time 400IHD is pretty similar, but adds dual alarms and an HD Radio receiver for picking up HD stations. It also supports iTunes tagging; just press a button when you hear something you like, and when you sync your iPod in iTunes, it will let you find and buy it quickly.

Neither works with iPhone, but they support all the newest iPods and also many legacy models. No pricing and availability for the 200ID right now.
CES, clock, HD Radio, JBL