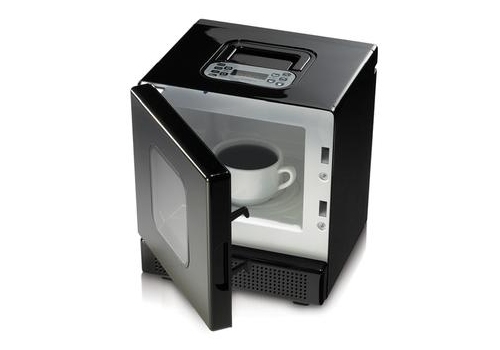 This little Iwavecube personal microwave is pretty self-explanatory. It's measures just 10.5″x12″x10″ so it doesn't take up a lot of room, but you aren't going to be putting a big microwaveable TV dinner in there either. Have one of these at your desk and you avoid trips to the break room, keeping up your introvert profile and avoiding awkward conversations while your waiting for your stuff to heat.
Unfortunately, unlike the USB Mini Fridge, USB power just doesn't cut it for running the Iwavecube and it will require a standard outlet. And if your office is like ours and frowns on plugging in personal appliances at your desk, I can think of a number of other handy places for it like my TV room, home office, wet bar, in my car, etc.
Apparently a smaller microwave doesn't necessarily constitute a smaller price, either. While you can pick up a more standard-size microwave most places for well under $100 this small personal model is going for a premium of $129 plus some shipping, available in black or red.