| | |
| --- | --- |
| | |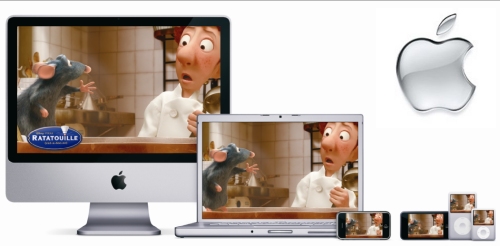 Apple announced the immediate launch of iTunes Movie Rentals today during the MacWorld 2008 keynote speech, allowing iTunes users to get limited-time download of movies from any of the major studios for as little as $2.99. The new service is part of iTunes version 7.6 which is available now and gives a rental download of movies for 30 days, but once you begin watching the movie the rental will run out in 24 hours. It can be watched as many times as you would like within that time. You can even start watching on your computer and then transfer the video to your iPod and finish watching the movie on the go.
Apple appears to have picked up all the major studios with this offer with the list of participants including 20th Century Fox, The Walt Disney Studios, Warner Bros., Paramount, Universal Studios Home Entertainment, Sony Pictures Entertainment, Metro-Goldwyn-Mayer (MGM), Lionsgate and New Line Cinema. iTunes plans to have over 1,000 titles available by the end of February with rates of $2.99 for regular titles and $3.99 for new releases. For another dollar iTunes will deliver titles in high-def with Dolby 5.1 surround.
To make this service even better Apple has worked out a way to get these movies to the place in the house where people really want them – their TV/entertainment room. Apple TV has been able to bring pictures and video from your computer to your TV but it's just not catching on as much as Apple would like. Now Apple TV owners will be able to download movies from iTunes straight to the Apple TV box and watch them on the television with no computer involved. New software will be available to download later this month to the Apple TV appliance that will allow on-screen ordering and viewing of media content. The new service software addition for Apple TV is free and the iTunes movie rental is the same price as it is for downloading movies to your computer. The Apple TV appliance itself runs $229 for the 40GB model and $329 for the 160GB. This is certainly going to make things difficult for Netflix, Comcast, etc.
Apple TV and iTunes Movie Rentals