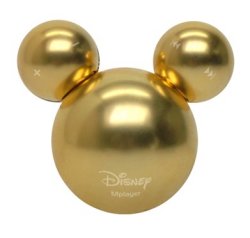 There's gold in them there ears! iRiver is set to sell what it is calling the "assassin's mace". This amounts to a Mickey Mouse MP3 with gold paint on it ala Goldfinger.(Or more recently Goldmember of Austin Powers fame) Mickey fans will want to hurry as it's only available in limited editions.
The design houses a Philips PNX0103ET sound processor. The ears will control the volume and track menu and it has an internal memory of 2GB. It's very cute in a "If Mickey were a pimp" kind of way, as well as being simple and it won't cost you a fortune, at $123.

This is why Minnie loves Mickey. He's all about the gold.
gold, iRiver, limited edition, mickey mouse, MP3, player