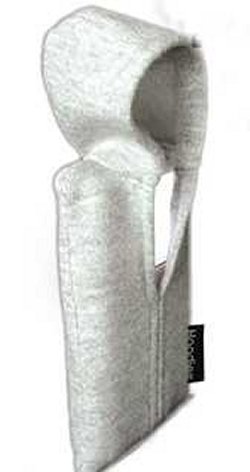 This is for anyone who thinks that celebrities dressing up tiny dogs is oh so cute. Well, that trend may be on it's way out, so why not dress up your iPod? Maybe it needs a wardrobe makeover. If you're bored with your current gadget skins the iPod Hoodie is definitely different. If you don't have a tiny animal to dress, this would be the way to go.
It looks just like the hoodies you wear, but more ridiculous as it is on a small iPod. They're even made out of real sweat shirt material. The iHoodies come in shapes compatible with the iPod Touch, Nano, Video Nano and iPod mini, and cost between £9.99 and £10.99 or about $20. Think of all the fun you can have dressing your various devices and having lovely little tea parties. Why, the hoodie is a perfect way to recreate Eminem in the "8 Mile" movie.

Alright, so now you have something new to dress. I don't want to see any more little dogs in tutus.