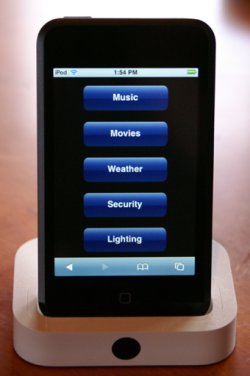 Here's a neat app for iPhone that makes your home smarter. Many people have dreamed of automating their house, but it has always been an expensive proposition. Now anybody can do it for a reasonable price, thanks to DIY software like Cinemar's Mainlobby. The Mainlobby iPhone app works with iPhone and iPod touch. It will turn your iPhone/iPod touch into a universal remote control that can control almost everything in your home, like lighting, heating, TV, security, audio and video etc.
It works with the iPhone/iPod Touch web browser,and Mainlobby's built in web-server using Safari's Ajax support. It basically becomes a touch screen which sits on your wall and interfaces with all your equipment. How cool would it be to control your home using your iPhone or iPod?

This is still in the early stages apparently, but the lead developer on the project plans to use it as his "primary handheld controller," so that should mean lots of future development.
[Gadget Venue] VIA [Gadgettastic]
Home, iPhone, iPhone applications, remote controls